Many sports organise championships in certain seasons. For instance, football is not played in winter, or hockey in summer. There are also lots of requirements and circumstances for various sports.
The number of visitors to bookmaker portals is only enhancing — punters want to experience excitement and play. Virtual sports have appeared very timely and attract more clients to wagering offices than before.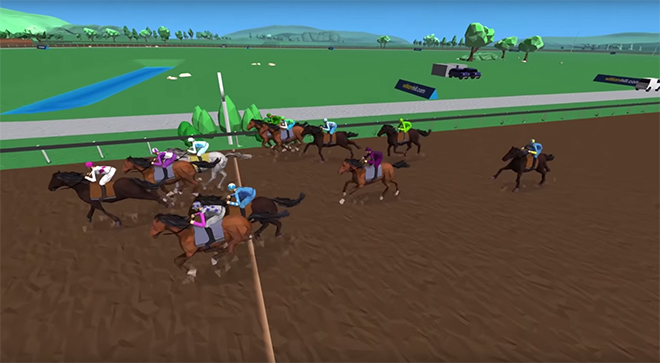 Bett-Market
explains in detail the benefits of this trending business niche. Our specialists are providing online operators with all the important components for launching
bookmaker sites
. From us, you can also
order a ready-made gambling project on favourable terms
.
There is a huge contrast between real and fantasy matches, and bidding on these is extremely dissimilar:
Virtual sports are a demonstration (imitation) of actual tournaments developed by programmers. Everything is built as in live matches: championships take place, players score goals, horses gallop, and cars drive at extreme speeds.
The rules and requirements are similar to other kinds of betting entertainment. Tournaments do not stop, and bidding is possible at any period.
Virtual sports have no breaks for weekends or holidays. This increases the number of wagers. Payouts are quick and more frequent.
Fantasy games are much faster than real championships. The time of any tournament is minimal.
Punters do not build strategies or put effort. Virtual bidding is based on chance. It is the same RNG that works in roulette and slot machines.
Punters bid on fantasy championships of the following activities:
cycling;
horse, greyhound and car racing;
speedway;
football;
tennis, etc.
The main features of virtual bets are:
A coefficient is assigned to the result of any championship (match, game, or race), as in real events. Logic is not important in this case as it does not affect the outcomes.
Making bids is available on any sports situation. Their amounts meet all requirements as in any other tournament.
Wagers can also be combined — for instance, virtual express bets and real ones.
Fantasy sports situations are held on the Web — this is not a recording.
At the end of the championship, customers immediately receive their earnings.

The key characteristics of the company are:
A well-known operator (and provider) is actively using virtual bids. William Hill proposes a diversity of sports and types of wagers to its clients.
It is very easy to play on the branded bookmaker site. A punter only needs to register and choose an event (fantasy world).
The company proposes all types of virtual bids. When a user selects a betting market (for instance, football) a screen will emerge at the top, where the competitions will be broadcast. Events change one after another, and gamblers may enjoy bidding for days.
To bet, punters need to click on any coefficient, which will then be shown on the player's card. There are express and double bids for any taste. At the end of the match, the results will appear at the bottom of the page.
There is no need to calculate results for making bets since sportsmen and animals are not real. Punters can only choose for luck, place bids, win and receive their earnings instantly.
The proprietary bookmaker site supports the 9 most famous payment systems. The services work flawlessly so that punters can receive their winnings without delays.
Lots of gamblers enjoy fantasy tournaments and earning quick winnings. Bett-Market assists in launching such entertainment on your bookmaker site. We also help create a
wagering office
on the Web from scratch.
Additionally, our company proposes such components for profitable operation:
You can open a lucrative wagering business with virtual sports games.
Contact
our manager to ask additional questions about running a gambling start-up.